COURSE UPGRADES - SAVE $ WHEN ADDING MORE COURSES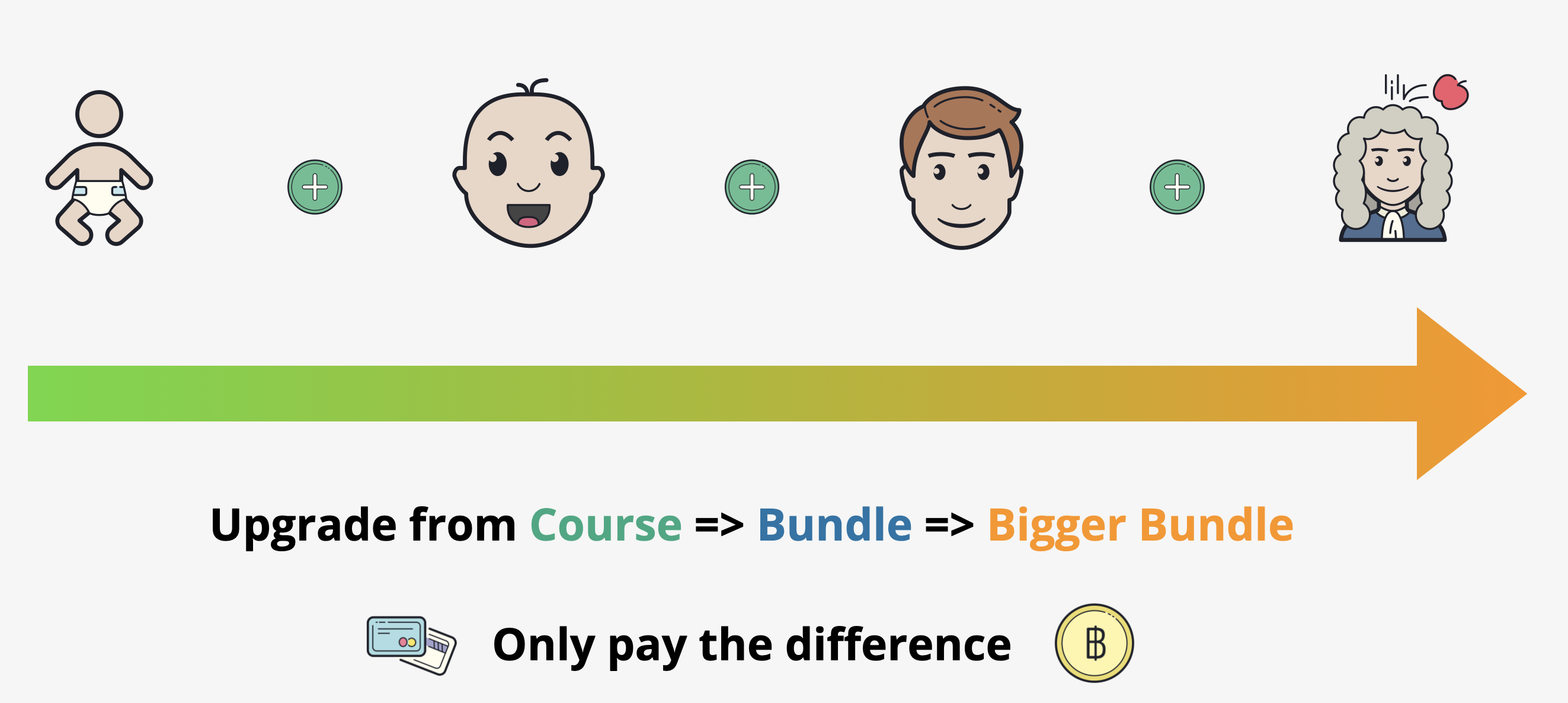 Expand your Course Collection
.. while saving money
Are you considering expanding your course library? Here's some good news! You can often upgrade to a larger content bundle by paying the difference rather than purchasing each course separately. Here's how it works:

In summary, instead of adding individual courses, you can upgrade to a bundle that contains one or more courses you have and the courses you want and only pay the price difference; this can be significantly cheaper. Note: you can't "upgrade" to a bundle that doesn't contain any of your current courses and there are no custom bundles available.



Some Recent Examples:

Example 1: Alice Decided to go "pro"
She passed Solutions Architect

Associate

using my

$40

course.

She wants to grow her skills by achieving solutions architect

professional

(usually

$80

)

Upgrade

Option: She can move to the solutions architect bundle (usually $100) for

$60

after

subtracting

her

$40

previous payment
Example 2: Bob decides to specialize.
He passed SA Associate and Pro using my Solutions Architect Bundle (which costs

$100

)

His next move is to specialize and add the

Security ($80)

and

Networking Specialty ($80)

Courses to his collection (

$160 total

).

Bob has three upgrade options:
Security

Architect Bundle:

+$20

(vs. usual $80 price)

Network

Architect Bundle:

+$70

(vs. usual $80 price)

Network

Security

Architect Bundle:

+$90

(vs. usual $160 price for both courses).
Example 3: Tim wants to expand his knowledge
Tim has studied and passed the

Sysops Associate

exam

He wants to expand his

architecture

and

development

tooling

knowledge and wants to reduce the

$40

+

$40

cost.

The

associate bundle

, which usually costs

$100

includes the extra courses he wants.

He pays

$60

(after accounting for his previous $40 payment).
Example 4: Janice has long-term learning plans
Janice has passed

all three associate

exams using my content

She wants to expand her knowledge and own my

current

and

future

content.

She likes the look of the "

ALL THE THINGS

" bundle, which usually costs

$400

She can pay

$300

by deducting her $100 spent on the associate bundle.
Example 5: Jess's Multi-Platform Aspirations
Jess already owns the "

ALL THE THINGS

" bundle, and has used many of my courses.

She wants

more content

spanning

various cloud platforms

and

tech stacks

and has noticed the "

ALL THE THINGS PLUS

" bundle, which usually costs

$600

She only pays

$200

since she already invested in the "ALL THE THINGS" bundle (which cost $400).





How to Upgrade:

Choose a bundle that contains the courses

you already own

and the

new ones you want

.

Or let us know the

courses you want

, and we can

help

you with the most

cost-effective

method of

upgrading

.

Log a ticket (

HERE

) and let us know what you would like

We'll respond with an

upgrade payment link

OR

further questions

if needed. Note:

Upgrade links last two weeks

. If unused, you'll need to request a new one.

For "ALL THE THINGS" or "ALL THE THINGS PLUS", you can pay

in full

or in

instalments

.

We will assume a one-time payment

if you don't inform us otherwise. Note: Installments come with a

minimal admin fee

, increasing with the number of months you want to split the cost.
Complete and Continue