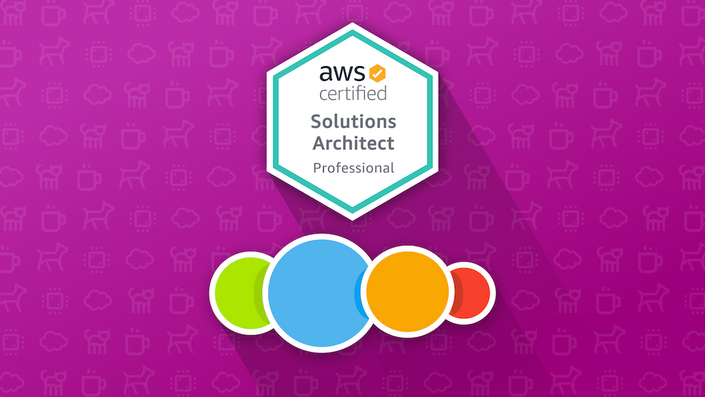 AWS Certified Solutions Architect - Professional (EARLY ACCESS)
Become a Professional Solutions Architect and confidently pass the AWS SA PRO certification
Watch Promo
Enhance your skills - become a professional level Solutions Architect and pass the AWS SA Pro Exam

The AWS Certified Solutions Architect is one of the most valuable and in-demand cloud certifications available. The associate level certification is valued because it demonstrates capability in a wide range of AWS products and services.

The AWS Certified Solutions Architect Professional certification moves beyond this, testing your in-depth knowledge of a wider range of AWS products and services. It evidences your ability to design complex cloud-native and hybrid solutions, audit and mitigate performance and reliability problems with sub-optimal implementations, and identify the most ideal product or selection of products to use in a given situation.
The exam requires you to be able to do all of this, under pressure, within complex scenario based questions.
Far fewer people are able to obtain this super-valuable certification, but by enrolling in this course I'm going to teach you how to easily overcome the challenging exam and even more importantly help you gain the skills required to become a senior AWS solutions architect. Don't be scared, if you are willing to put in the effort I'll be here to help you every step of the way!!!!
IF YOU ARE LOOKING FOR A BUNDLE WITH ASSOCIATE AND PRO COURSES IN : https://learn.cantrill.io/p/aws-solutions-architect-bundle


EARLY ACCESS PREVIEW

*** PLEASE READ *** The course is currently in early access preview mode. This means that it's a work in progress and not all lessons have been added.
UPDATE 20200909 - Theory almost done, final demos will be added over the coming days, practice exams are being worked on. Final release is days away.
When you purchase the course, you will see lessons which aren't there ... but over time you will see them being added regularly.
Purchasing it now means you will have the FULL course .. when all the lessons and resources are added. The preview becomes the full course.
SUITABLE FOR
Anyone who has passed the AWS Certified Solutions Architect - Associate Certification

Experienced Engineers or Consultants

IT Managers looking to understand complex architectures and projects

Project Managers running large hybrid migrations or complex implementations within AWS
REQUIREMENTS
Recommended - Hold the AWS Certified Solutions Architect Associate certification
Recommended - Either passed the SAA-C02 exam using my course, or watch it as part-1 to your SA Pro Studies
Laptop or Workstation to perform the demo lessons
An email address and credit/debit card for the AWS account(s)
$10 or so per month of studies (where possible, the course will use free-tier, but there will be AWS costs for DEMO lessons)
WHAT MAKES THIS COURSE DIFFERENT
PRODUCTION VALUES: The course includes best of class theory, architecture and practical demo lessons. Everything in the course is there for a reason, is produced to a high standard and aids in your learning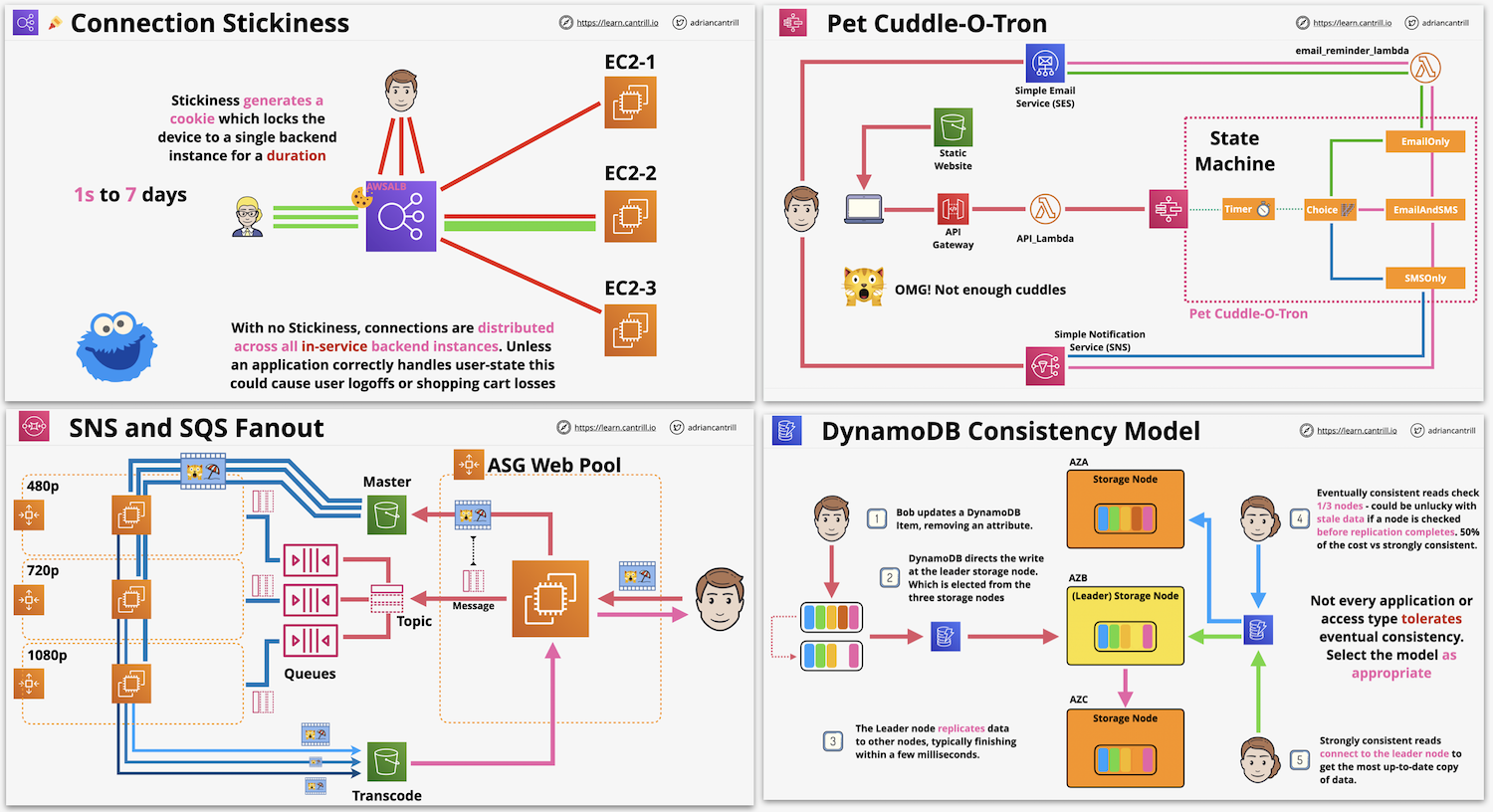 ALWAYS CONSIDERS COST: The course starts with by helping you create and setup AWS accounts which you will use for your study. These will benefit from the free-tier giving you free access to AWS products and services up to a certain monthly level.
LEARN REAL SKILLS: This course isn't just about the exam, the AWS Certified Solutions Architect is one of the most valuable certifications available in IT - but obtaining $100,000+ cloud positions will require experience as well as accreditation. By the end of the course, you will be prepared to pass the exam confidently while also having gained enough experience to use AWS day to day and design AWS solutions.
SCENARIO BASED: The course is based around a real-world like scenarios. The theory and demo lessons are structured around scenarios which you will encounter in the real world.
RESPECTS YOUR TIME: I promise to respect your time. Everything in the course is either relevant to the exam, or will provide the surrounding knowledge which will help you pass with confidence; while also gaining the practical experience needed to get access to exciting job opportunities. Lessons are never more than 20 minutes and often much shorter - I prioritize efficiency, not duration. Each section includes a quiz helping you retain knowledge, and at the end of the course, we've designed a full practice exam which mirrors real-world conditions.
ADVANCED AWS ARCHITECTURE : The course covers advanced architectural concepts as they relate to AWS but also covers the extended AWS product range which features on the SA Pro exam in some depth. Topics covered include:-
Advanced Identity Solutions (Multi-account & Federation)
Complex Compute, Scaling and Load Balancing Architectures for extreme performance
Advanced Storage configuration, performance, resilience and DR
Data & Analytics Services
Caching architectures for extreme performance levels
Complex Application support services and architectures
Advanced Deployment and management within AWS
Complex Migration scenarios and Hybrid environment Implementation
Advanced security and Account Configuration Management
Disaster Recovery and Business Continuity in AWS
Advanced Cost management techniques and strategies in AWS
& much much more.
ALWAYS ACCURATE/ALWAYS UP TO DATE: I pride accuracy and so commit to keeping the content up to date with regular updates as AWS announces new products or features. Updates will be included in your one-time course purchase so you can study at your own pace.
By the end of this course, you will be able to confidently pass the associate-level AWS Certified Solutions Professional exam and start getting access to some of the best paying careers in the industry.
COURSE OUTCOMES
Be ready to sit and pass the Solutions Architect Professional exam with confidence
Confidence in technical interviews for that SA Role
Be able to design local, global, elastic architectures in AWS that are secure, cost-effective, resilient, efficient and adhere to AWS best practices.
Understanding and appreciation for technical fundamentals which AWS products and services rely on
Practical experience of:-
Building complex solutions in AWS
Design high-performance and resilient architectures in AWS
and be able to implement serverless applications
Level up your career in terms of $ and project opportunities
Advanced knowledge to tackle the more difficult specialty level exams
MONEY BACK GUARANTEE
The course offers excellent value for the one time enrollment fee. You will gain full access to the materials, which will receive constant updates for the lifetime of the SA Pro certification. I'm so confident in the value, I offer a 30-day unconditional money-back guarantee. All I ask is that you contact me and give me some feedback on what you didn't like.
Frequently Asked Questions
When does the course start and finish?
The course starts now and never ends! It is a completely self-paced online course - you decide when you start and when you finish.
How long do I have access to the course?
How does lifetime access sound? After enrolling, you have unlimited access to this course for as long as you like - across any and all devices you own.
What if I am unhappy with the course?
We would never want you to be unhappy! If you are unsatisfied with your purchase, contact us in the first 30 days and we will give you a full refund.
What does early-access preview mean?
You are getting a discount for buying a course which is still in development. The discount is larger the less content the course has. It's a way of supporting me during the courses development and getting access to the course quicker than you otherwise could. You can start studying right away, and take lessons as they are added. You will have access to ALL the features of the full release course as they are added. Generally a course takes between 1 and 3 months to full produce.
Will I get access to the full couse?
An early-access preview course becomes the full course when all content is added. You get a discount now, in exchange for supporting the development, but will have access to the full set of lessons in the same was as if you bought the course when finished.
Will this course be kept up to date?
Yes. The author has a reputation for keeping content up to date. The course has a single one-time purchase fee and will be kept up to date for the lifetime of the certification is relates too.
Are there labs in the course?
Yes, I call them DEMO lessons. We create fresh AWS accounts at the start of the course and use these. The AWS accounts come with an allocation of free-tier access and the course attempts to stay within this. The labs the course offers are longer running, more complex and mirror real world situations - something which is much harder to accomplish with traditional 'lab' environments which are short lived.
Does the course come with captions?
Yes, full professionally made captions are provided. These are created by an industry leader rev.com. You'll find none of the mistakes present in many 'automatically generated' or 'self-generated' captions.
Does the course come with the same visual learning aids as the Associate course?
Yes... even more architecture :)
Your Instructor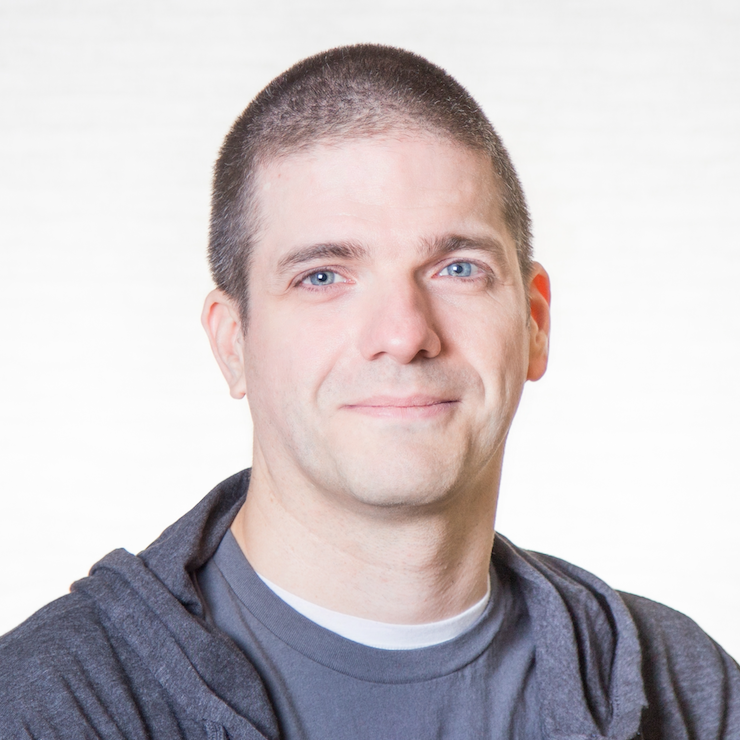 Adrian is an experienced Solutions Architect and technical trainer specialising in cloud and emerging technologies. Over the past 4 years he has created eight popular online training courses taken by nearly two hundred thousand students globally.
Adrian is obsessed with helping his students learn and develop in the most efficient and effective way possible and draws on over two decades of technology design, implementation and fault-finding experience.
Outside work Adrian loves home automation, green technology, UAV flying and being dominated by his four feline mistresses.